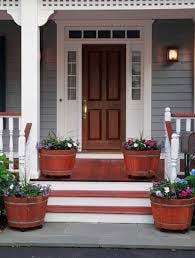 Front Door
Replace or repaint worn front door to create a good impression.
Polish or add brass knocker.
Make sure front door has a working peephole.
Check doorbell and repair or replace as necessary.
Replace worn mailbox.
Make sure house number is clearly visible and attractive.
Polish, repair and/or replace all door handles and locks.  Make sure all outside doors have deadbolts or other safety locks.